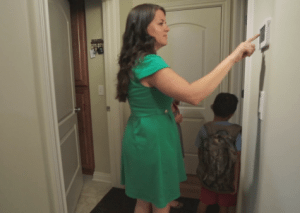 Available from Nasa Security:
Security needs to be at the top of the list when it comes to your family, home, and lifestyle. Our focus is providing your family with peace of mind by offering state-of-the-art systems that blend convenience and security into one.
It all starts with our security system, which lets you add control of lights, door locks, thermostats, and more. You can control all of them with your touchscreen keypad or your mobile phone. You can choose to use either simple text messages or a security app on your smartphone.
In addition to dimming a light, locking a door, or adjusting the thermostat, you can combine all of these to work with the press of one button on your keypad or phone. With this state-of-the-art system, home control can be adjusted to your lifestyle automatically.
Let's say you're leaving your house to drop the kids off at school and then go to work. As you leave and turn your security system on, it automatically adjusts lights and the thermostat and locks the outside doors. The system is programmed to activate upon your departure or return, so when you come home at night and turn the system off, everything again automatically adjusts to your program's settings. It's that simple.
It's state-of-the-art security that fits into your lifestyle and your life. Exclusively from DMP. Give us a call today to learn more.
DMP products are available through Nasa Security in Lakeland and Key West, Florida.
Looking for trusted home security companies in Florida Keys? Look no further than Nasa Security. We have over 45 years of experience in the security industry—you won't find a better company to protect your home and business. Give us a call today!