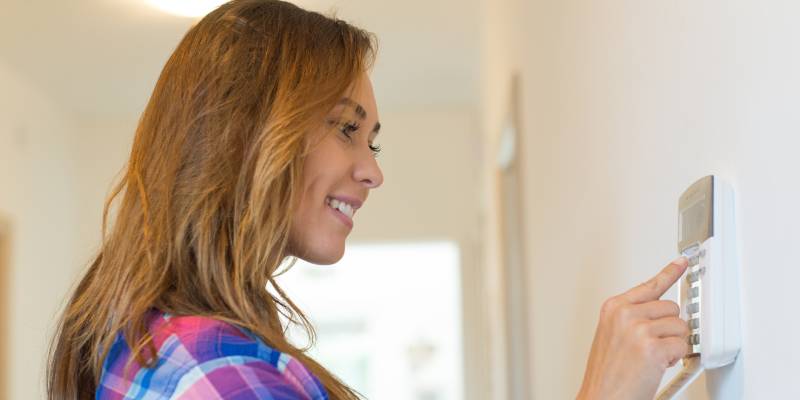 Why don't you have a security alarm system in your home? Perhaps you think you can't afford it, or it's not worth it because you live in a safe neighborhood where nothing dangerous ever happens. The truth is that crimes can and do happen anywhere, even when you least expect it. Almost every day, you can turn on the news and hear someone who was the victim of a burglary or home invasion say, "I never believed it could happen to me."
There are many layers of security built into each home system from NASA Security. In many cases, just the stickers in the windows or the sign on your lawn that says your home is protected by a security system is enough to deter criminals. However, if they still attempt to enter your home, a loud alarm will sound to alert you of the danger and hopefully scare them away. And if they are still undeterred, our 24-hour security monitoring employees will contact the police immediately and send them to your home to take care of the situation.
Hidden Advantages of Home Systems
Alarm systems are a great addition to any home! Not only will your home security systems help to give you peace of mind with consistent monitoring and safety measures, but it will have other advantages as well. Here at NASA Security, we love to help people feel safe as well as tell them about the many hidden advantages that come with alarm systems. Here are just a few for your consideration:
Lower Bills. Many alarm systems are starting to integrate with your other home's systems as well. This can lead to dramatic cost savings on your utilities!
Insurance Savings. Did you know that many home insurance providers will give you a discount if you have an alarm system? Because you are actively helping to avoid a situation that would necessitate the filing of a claim on your part, most insurance providers are happy to discount your insurance premiums if you have an alarm system.
Home Convenience. With many homes becoming more automated or integrated with "smart" features, alarm systems can talk to the other systems in the home for the ultimate in home convenience. Your thermostat, fire alarm systems, carbon monoxide alarms and others can all alert your home system of danger.
Beneficial for Sellers. If you are thinking of selling your home, home systems can be a very attractive feature for buyers who want a little extra peace of mind. Additionally, many buyers consider alarm systems an upgrade that is worth a higher asking price for your home.
To learn more about alarm systems that we have available here at NASA Security, please call and talk with us today.
Best yet, our home and commercial security systems are very affordable. You'll never have to break your budget to get priceless protection for your home, family, or business.
If you'd like to sleep more soundly at night or leave for an extended vacation without worrying about the home you're leaving behind, contact us today at NASA Security in Key West and Lakeland, Florida, and we'll make sure your Florida Keys home is watched over and protected by a whole team of security professionals, 24/7.
---
At NASA Security, we offer residential alarm systems throughout Florida, including Lakeland, the Florida Keys, Marathon, Big Pine Key, Islamorada, and Key Largo.